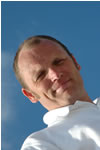 Microservices: Ontwerp, Bouw en Inrichting
---
Inspirerend en intensief seminar over deze belangrijke nieuwe trend in software-ontwikkeling
29 June 2016 (14-21u)
Location:
Golden Tulip Brussels Airport
(Diegem)
Gepresenteerd
in het Nederlands
door
Sander Hoogendoorn
Prijs:
720 EUR
(excl. 21% BTW)
Registreer NU »
AGENDA »
SPREKERS » This event is history, please check out the List of Upcoming Seminars, or send us an email
Check out our related open workshops:
Check out our related in-house workshops:
Volledig Programma:
13.30u - 14.00u
Registratie, koffie/thee en natuurlijk ook gelegenheid tot netwerken
14.00u
Een Introductie tot Componenten en Services
Inleiding: monolitische applicaties vs microservices
De sterktes en zwaktes van monolitische software
Een korte historiek van componenten en services
Een Introductie tot Microservices
Weeral een hype ? Waarom is deze hype anders ?
Een definitie van microservices
Kenmerken en karakteristieken van microservices
Containers en schaalbaarheid
Polyglot persistentie
De beloften van microservices
Uitdagingen van microservices
Hoe groot of klein zijn microservices ?
Greenfield of Brownfield ?
Twee case studies uit de praktijk
Guiding principes in beide praktijkvoorbeelden
Aanpakken via business processen of architectuur ?
Bestaande applicaties opsplitsen in (micro)services
Brownfield migratie naar microservices
15.45u
Korte Pauze met Koffie/Thee en Versnaperingen
Evolutionaire Software-Architectuur
Een landschap opbouwen van kleine applicaties en kleine services
Design patterns
Micro-applicaties, workers en services
Service-consuming applicaties
Service-delivering componenten
Communicatie via REST
Authenticatie en tokens
Het Ontwerpen en Bouwen van Microservices
Waarom modulair ontwerp zo belangrijk is
Richtlijnen voor het ontwerp van microservices
Het "Single Responsibility Principle" (SRP)
Domain-Driven Design
Bounded Contexts
Het modelleren van micro-applicaties
Wireframes
Smart use cases
Mapping van bounded contexts rond resources
Gebruik van HTTP werkwoorden
Een RESTful API voor uw services
Postel's Law uigelegd
Het resource model
Het Testen van Microservices
Een overzicht van testtechnieken voor microservices
Waarom manueel testen niet efficiënt is
Unit testing
Behaviour-driven ontwerp met voorbeelden
De introductie van service contracten
Quality Assurance (met SonarQube)
Integration testing
Acceptance testing
Wanneer wat testen in uw "deployment pipelines"
Deployment van Microservices en Projectorganisatie
Continuous Integration
Het ontwerpen en opzetten van een deployment pipeline
De OTAP (Ontwikkel, Test, Acceptatie en Productie)-straat en verder naar Continuous Delivery
Minimal Viable Products (MVP)
Agile, Kanban en microservices
Microservices en DevOps
Veranderen microservices uw projectorganisatie ?
20.45u
Afronding, Samenvatting en Besluit
Enkele finale aanbevelingen
Lossen microservices alle uitdagingen van uw IT afdeling op?
Hoe gaan we verder?
21.00u
Einde van dit seminar
SPREKERS »
REGISTER »