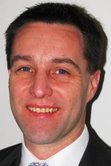 Open Source Business Intelligence
---
Open source alternatives for your BI stack, with an overview of the market, cost/benefits and pitfalls
3 December 2009 (14-21h)
Location:
Pullman Diegem
(Diegem)
Presented
in English
by
Price:
590 EUR
(excl. 21% VAT)
AGENDA »
SPEAKERS » This event is history, please check out the List of Upcoming Seminars, or send us an email
Check out our related in-house workshops:
Why should you attend this open source business inteligence seminar ?
FREE book with your participation: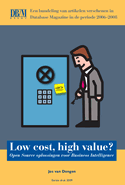 Low Cost, High Value ? - Open Source oplossingen voor Business Intelligence
Every day, a growing number of organizations are attracted by the promise of Open Source software: low-cost full-featured solutions that will help drive down the total cost of ownership of an IT infrastructure. Software like Linux, OpenOffice, MySQL and Firefox are considered mainstream solutions nowadays and are being widely adopted.
But how about solutions for Business Intelligence ? Are BI Suites like Pentaho or JasperSoft already mature enough to compete with the established proprietary vendors ? Can MySQL be used as an analytical or a Data Warehouse database and if not, which alternatives are available ? Which open source business intelligence tools are available for reporting, OLAP, analytics, corporate performance management, ... ? What are the costs and pitfalls that you should take into account ?
Business Intelligence for long was a privilege of large corporations who could reap the benefits of these solutions thanks to their abundant software acquisition budgets. Organizations looking for BI tools mainly looked for the market leading products from Business Objects, Cognos, IBM, Informatica, Microsoft, MicroStrategy, Oracle, SAS and the likes. The last couple of years, we witnessed various developments to make BI solutions accessible to a much broader audience. Think of vendors like Oracle and, most notably, Microsoft who added BI functionality to their existing database and office software, thus lowering the threshold for acquiring and implementing BI software. An even more important development is the rise of a collection of Open Source BI tools and suites, including various professional organizations who can implement and support a complete Open Source BI stack.
The Open Source revolution is led by the adoption of Linux, Open Office and MySQL, but the same thing is happening with JasperSoft and Pentaho, the two leading commercial open source BI vendors. The key question here is: do the established closed source vendors really offer more and better functionality, quality and support, or are you mainly paying for their expensive marketing and sales organizations? This seminar will give you the required knowledge to be able to validate the different available solutions.It will also answer the question whether the adoption and implementation of Open Source BI within your organization is advisable, and it shows you the best way to accomplish this.
This seminar not only gives you a complete and realistic overview of the Open Source BI market, but also shows you how mature the various parts of the BI stack are and how they can best be applied in a new or existing BI infrastructure. What makes this seminar really unique is the large amount of anecdotes and references to case studies to help you get started right away.
What will you learn at this open source business intelligence seminar ?
Provide a comprehensive overview of what Open Source BI is and whether it is a feasible alternative for your own BI challenges
Explain how to select the right tools to build, expand or replace a BI stack
Show how the leading Open Source BI suites compare to the leading closed source alternatives like Business Objects, Cognos, Microsoft and Oracle
Advise you where and how to start implementing OS BI solutions
Who should attend this open source business intelligence seminar ?
This seminar is aimed at everyone who is directly or indirectly involved in the evaluation, selection, implementation, support or usage of Business Intelligence in your organization. It will benefit both IT and business people who want to obtain better insight in the feasibility of using open source BI software as part of a corporate infrastructure.
BI professionals & consultants
IT and BI (project) managers
IT Architects
DBA's responsible for maintaining BI and DWH solutions
IT-oriented Business Analysts
AGENDA »
SPEAKERS »
Questions about this ? Interested but you can't attend ? Send us an email !