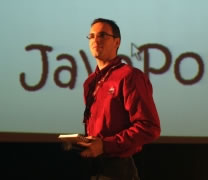 Rich Internet Application (RIA) Alternatives
---
What do open source, Java, Adobe and Microsoft have to offer to build faster, engaging and more interactive Internet applications ?
24 September 2008 (14 - 21 h)
Location:
Pullman Diegem
(Diegem)
Presented
in English
by
Price:
540 EUR
(excl. 21% VAT)
AGENDA »
SPEAKERS »
Our events before the 1st of May are postponed, events after the 1st of May are still planned. However, if we have to cancel an event due to corona, you can reschedule to a future event. This event is history, please check out the List of Upcoming Seminars, or send us an email
Check out our related open workshops:
Check out our related in-house workshops:
Why this seminar ?
Traditional HTML-based Web applications have the disadvantage that all interactions with the application must pass through the server, and this limits them in interactivity, responsiveness, usability and flexibility. By using client-side technology, Rich Internet Applications (RIAs) can have nearly all the features and functionality of traditional desktop applications:
They can have a rich user interface, including advanced widgets such as sliders and in-line editors, and advanced features such as drag-and-drop, client-side error-checking and calculations.
They can also be more responsive because they don't have to interact as much with the remote Web server as traditional Web applications, leading to bandwith reduction and higher network efficiency.
Furthermore, they allow asynchronous communication, e.g. for pre-fetching data that will probably be needed by the application, and there are tools appearing that allow off-line use of applications.
Of course, the new way of working has some limitations and drawbacks: not all browsers and client machines are created equal, so performance and functionality may depend on the actual client-side configuration. Also, you are more dependent on having a reliable Internet connection, and application development for RIA is somewhat harder than traditional Web development. But the major vendors are improving their Web application development tools all the time, and this seminar will show you an up-to-date status of the tools market for RIA.
The arrival of AJAX (Asynchronous JavaScript and XML) gave Web developers the possibility to exchange data between client and server via XML messages without refreshing the browser page. AJAX was a big step forward, but it was just the beginning. In order to build large applications using AJAX, to solve browser compatibility problems and to make the development process easier, several open source and commercial frameworks have been developed. All the major vendors such as Microsoft (with Silverlight), Adobe (with Flex and AIR), Sun Microsystems (with JavaFX), Google (with GWT en Gears), as well as many open source companies are offering solutions today that make the development of Rich Internet Applications as easy as possible. During this seminar, you will be able to get a feeling of what is possible with these tools, and how they compare.
Which questions does this seminar try to answer ?
What are Rich Internet Applications, and what can you do (and not do) with them ?
What are the advantages and disadvantages of AJAX and RIA ?
What about development productivity and code maintenance ?
What about usability: is the new RIA paradigm good for usability and accessibility, or is it too confusing ?
How does RIA compare to Adobe Flash ? What are the strengths and weaknesses of both approaches ?
What do Microsoft, Adobe, Sun, Google and others have to offer ?
How do you create Rich User Experiences ?
What are the pitfalls of RIA ?
Which skills are required ?
How can you embrace RIA in your longer-term application delivery strategy and IT architecture ?
Is RIA ready, useful and mature enough for the Web applications in your company ? What are the benefits and the risks of implementing RIA ?
Who should attend this seminar ?
This seminar is mainly aimed at IT decision makers and project managers that want to:
decide if AJAX and RIA is suitable for their Web development projects
compare and choose a RIA development toolset
build "occasionally connected" Web applications
You will get a lot of no-nonsense advice on the technologies and tools, spiced up with demonstrations.
AGENDA »
SPEAKERS »
Questions about this ? Interested but you can't attend ? Send us an email !