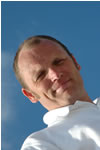 S.O.S. Software Architectuur
---
Een man, een whiteboard en drie stiften. Sander Hoogendoorn over software-architectuur, design patterns en frameworks
15 September 2011 (14-18u)
Locatie:
Golden Tulip Brussels Airport
(Diegem)
Gepresenteerd
in het Nederlands
door
Prijs:
0 EUR
Registreer NU »
AGENDA »
SPREKERS » This event is history, please check out the List of Upcoming Seminars, or send us an email
Check out our related open workshops:
Check out our related in-house workshops:
Leerobjectieven:
Een man, een whiteboard en drie stiften. Sander Hoogendoorn over software architectuur, design patterns en frameworks.
Eén van de fundamenten voor het welslagen van software development projecten is de beschikbaarheid van een goed bruikbare, betrouwbare, onderhoudbare en uitbreidbare software architectuur. Het opstellen en implementeren van zo'n software architectuur in bijvoorbeeld Microsoft .NET technologie is echter niet eenvoudig en vergt een schat aan ervaring en kennis over talrijke concepten zoals design principles, lagen, design patterns en frameworks.
Tijdens deze hoog-interactieve namiddag toont spreker Sander Hoogendoorn, principal technology officer bij Capgemini, lid van de partner advisory council .NET van Microsoft, bekend auteur en veelgevraagd spreker op internationale conferenties, zijn visie en ideeën over de totstandkoming van een goede software architectuur. Daarbij zal een rij aan onderwerpen uit het vakgebied op een overzichtelijke en onderhoudende manier aan bod komen.
Het unieke van het concept van deze middag is dat de spreker hiervoor geen voorbereide presentatie gebruikt, maar slechts gebruik maakt van een whiteboard en een set stiften. Dit concept zorgt voor een verhoogde interactie en staat toe met de spreker te brainstormen gaandeweg het programma vordert, waarbij het programma ook op aangeven van de deelnemers verder invulling krijgt. Sander Hoogendoorn put hierbij over zijn uitgebreide ervaring op het vlak van design patterns, principes, software architectuur, frameworks en Microsoft .NET technologie.
Onderwerpen die mogelijk of waarschijnlijk aan de orde komen zijn:
Welke lagen onderken ik in mijn software architectuur ?
Hoe geef ik invulling aan deze verschillende lagen ? Welke elementen bevatten mijn lagen ?
Talrijke ontwerp-principes zoals het open-close-principe (OCP) en het single-responsibility-principe (SRP), class-responsibility-collaborations cards (CRC)
Diverse design patterns zoals dependency injection, object relationship mapping (ORM), inversion of control, model view controllers (MVC, MVP, MVVM)
Domain driven design (DDD)
De relatie tussen software architectuur en frameworks zoals Microsoft Enterprise Library, ADF.NET, ASP.NET en ASP.NET MVC
Deze middag over software architectuur gaat door op 15 september 2011 ... Mis deze unieke kans op een middag brainstormen met één van de toonaangevende en onderhoudende sprekers in dit vakgebied niet !
AGENDA »
SPREKERS »
REGISTER »