Enterprise Search Solutions
---
Tools and methods to find the information you need.
24 March 2005 (14-21)
Location:
Sofitel Diegem
(Diegem near Brussels (Belgium))
Presented
in English
by
Price:
480 EUR
(excl. 21% VAT)
AGENDA »
SPEAKERS » This event is history, please check out the List of Upcoming Seminars, or send us an email
Check out our related in-house workshops:
Speakers:


Paul Hermans is Head of Information Architectures and Partner at Amplexor, a company that specialises in Enterprise Content Management. He was founder and manager of Pro Text, a well-known SGML/XML consultancy company that has become part of Amplexor since 2003. Previously, he was the manager of the electronic publishing department of CED Samson, a
part of the Wolters Kluwer group. Since 1992, he was involved in many important Belgian SGML/XML projects at SWIFT, KBC, SD-Worx, Indicator, Union Minière, Barco, Philips, ...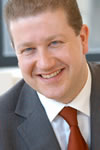 Erik Fransen is business intelligence consultant and trainer at CIBIT Adviseurs | Opleiders in the Netherlands. He is a regular conference and seminar speaker on datawarehousing, business intelligence, data mining and search technology. Erik specialised in business intelligence and knowledge management.
As a consultant, he advises companies how to make better use of large quantities of data and information. Within CIBIT, he is also product manager and trainer for several business intelligence and knowledge management courses. He joined CIBIT in1995 and holds a title in Knowledge Engineering. He current topic of interest is the role of enterprise portals in business intelligence and knowledge management.
AGENDA »
Questions about this ? Interested but you can't attend ? Send us an email !