What's moving in both technology and methodologies ?
Price: 480 EUR (excl. 21% VAT)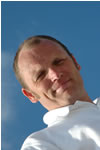 This event is history, please check out the List of Upcoming Seminars
Why this seminar?
No industry is subject to change to the same extent as the software industry. Every year new trends, techniques and technologies are being introduced. It is up to you to make something of this neverending stream of novelties. What trends will last, which are perishable? What technologies can really improve productivity and software quality within your organisation, and, not importantly, enhance employee satisfaction?
To help you get an overall picture, I.T. Works organises this "New Trends in Software Development" seminar.
During the seminar Sander Hoogendoorn will perform a reality check on a large number of trends, techniques and technologies. He will guide you through a number of issues that come up chronologically during a software development project: process, requirements, design, development and testing.
Who should attend this seminar ?
This seminar is important for anyone managing, or steering (part of) the software development process, and would like to get an overview of important trends in this discipline:
CIO's, IT managers and software development project leaders
Architects
Designers and developers
Participants are expected to have some affinity with software development, but no thorough technical knowledge.
Now, check out the full programme of this event ...
And find out who presents this training ...
Questions about this ? Interested but you can't attend ? Send us an email !