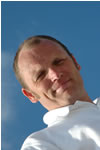 Agile development in de praktijk
---
Het implementeren van agile best practices in uw organisatie
14 March 2007 (14.00-18.30)
Location:
Sofitel Diegem
(Diegem near Brussels (Belgium))
Gepresenteerd
in het Nederlands
door
Prijs:
300 EUR
(excl. 21% BTW)
AGENDA »
SPREKERS » This event is history, please check out the List of Upcoming Seminars, or send us an email
Check out our related open workshops:
Check out our related in-house workshops:
Leerobjectieven:
Waarom dit seminar ?
Een aantal jaren geleden was agile software development een nieuw fenomeen op het gebied van het organiseren van software development, dat nog alleen in kleine innovatieve bedrijfjes zijn weg vond. Inmiddels, anno 2007, begint agile software development gemeengoed te worden. Grote organisaties als Microsoft, IBM Rational, en in Belgie bijvoorbeeld KBC Bank en Ardatis hebben de grote voordelen van agile software development ingezien, zowel voor opdrachtgever als opdrachtnemer. Veel organisaties in binnen- en buitenland overwegen momenteel de eerste stappen te zetten in deze evolutionaire richting.

Welke vragen komen aan bod?
Wat is nu precies agile software development?
Wat kenmerkt agile?
Welke agile methodieken zijn er eigenlijk en wat zijn hun overeenkomsten en verschillen?
Welke methodiek past het best bij mijn organisatie?
Welke agile best practices zijn er en welke kan ik al direct toepassen?
Hoe implementeer ik agile software development in mijn business?
Kan ik agile techieken toepassen in product development?
Voor wie is dit seminar bestemd ?
Dit seminarie richt zich op iedereen die zicht bezig houdt met de organisatie van het software development proces:
IT managers,
project managers,
software architecten,
senior designers en developers.
Sander Hoogendoorn, werkzaam als principal technology officer bij Capgemini en erkend agile evangelist van het eerste uur, geeft antwoorden en praktijkvoorbeelden. Daarnaast presenteert KBC Bank hoe ook KBC IT zich in de richting van agile werken begeeft, en Johan Lybaert van Ardatis hoe Scrum werd gebruikt voor één van de grootste Java-toepassingen in België.
AGENDA »
SPREKERS »
Vragen hierover ? Geïnteresseerd maar u kan niet deelnemen ? Stuur ons een email.