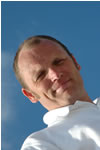 Agile development in de praktijk
---
Het implementeren van agile best practices in uw organisatie
14 March 2007 (14.00-18.30)
Location:
Sofitel Diegem
(Diegem near Brussels (Belgium))
Gepresenteerd
in het Nederlands
door
Prijs:
300 EUR
(excl. 21% BTW)
AGENDA »
SPREKERS » This event is history, please check out the List of Upcoming Seminars, or send us an email
Check out our related open workshops:
Check out our related in-house workshops:
Volledig Programma:
13.30u - 14.00u
Registratie met koffie/thee en croissants
14.00u - 14.40u
Voorgeschiedenis en korte introductie
(Sander Hoogendoorn)
Wat is er mis met onze huidige software development?
Met welke (nieuwe) uitdagingen krijgen we de komende jaren te maken in software development?
Een korte evolutie van systeemontwikkelmethodieken. Van niets tot procedureel tot iteratief en agile.
Wat is het agile manifesto
Wat zijn de algemene kenmerken van agile software development?
Een overzicht en vergelijking van agile methodieken, zoals extreme programming, Scrum, Smart, MSF Agile, OpenUP
14.40u - 15.10u
Wat betekent agile software development voor mijn projecten?
(Sander Hoogendoorn)
Introductie in de verschillende rollen in agile projecten.
Wat betekent agile voor mij als klant?
Hoe manage ik een agile project?
Wat kenmerkt agile developers en testers?
Welke rol vervullen typische agile specialisten als coaches en build masters?
15.10u - 15.55u
Case: Agile software development bij KBC
(Jan Laureys, ICT Senior Team Leader, en Peter Bauwens, Technical Architect, KBC ICT)
Kadering Case

Workload
Team (in combinatie met offshore)

Ontwikkelingsomgeving

Infrastructuur
Methodologie
Toolset

Project lifecycle
Jan Laureys is verantwoordelijk voor de operationele aansturing van de KBC .NET project teams en het KBC .NET Servcie Center. De teams werken volgens de agile methodiek, meer en meer ook in combinatie met het Indische KBC offshore bedrijf Value Source.
Peter Bauwens is technical architect van het KBC .NET Service Center, dat overkoepelend verantwoordelijk is voor de technische aansturing van alle .NET teams binnen de KBC groep.
15.55u - 16.10u
Pauze: koffie en versnaperingen
16.10u - 17.10u
Het implementeren van agile best practices
(Sander Hoogendoorn)
Hoe schat ik mijn agile projecten?
Hoe plan ik overzichtelijk mijn iteraties in agile projecten?
Een kort overzicht van agile best practices.
Voorbeelden uit de praktijk: stand-up meetings, retrospectives, test first development, continuous integration, pair programming, side-by-side programming.
Hoe implementeer ik agile best practices in mijn organisatie en projecten?
Welke tooling gebruik ik in agile projecten?
Process support tools van Microsoft en IBM Rational, modelleertools, agile versiebeheer, development tools als Eclipse en Visual Studio, geintegreerde unit test tools.
17.10u - 17.25u
Pauze: koffie en versnaperingen
17.25u - 18.10u
Case: Ventouris
(Johan Lybaert, Ardatis (CEGEKA Groep) )
korte intro over Ventouris
Lessen uit Ventouris:

agile project management
customer collaboration
test driven development
continuous integration
refactoring
simpel design
pair programming
retrospective meetings
Johan Lybaert is verantwoordelijk voor "Ventouris", een in ASP gehoste applicatie. Vijf teams ontwikkelen simultaan volgens de SCRUM en eXtreme Programming praktijken. Johan Lybaert zal uitleggen hoe SCRUM en XP aan te wenden in grote projecten.
18.10u - 18.30u
Het implementeren van agile best practices
(Sander Hoogendoorn)
Hoe verkoop ik agile software development aan mijn klanten?
Kan ik agile ook toepassen bij product development?
Is agile vooral voor (doorgewinterde) techneuten?
Hoe bewaak ik de scope van mijn project?
Hoe ga ik om met architectuur in agile software development?
Kan ik agile alleen toepassen in kleine projecten, of werkt het ook in enterprise projecten?
18.30u
Samenvatting en Besluit - einde van dit seminar
SPREKERS »
Vragen hierover ? Geïnteresseerd maar u kan niet deelnemen ? Stuur ons een email.