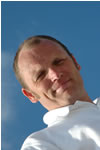 Pragmatisch Modelleren met UML
---
Zinvol gebruik van UML doorheen het software ontwikkelingsproces
14-15 December 2005 (9-17)
Location:
Holiday Inn Gent
(Gent)
Gepresenteerd
in het Nederlands
door
Prijs:
980 EUR
(excl. 21% BTW)
AGENDA »
SPREKERS » This event is history, please check out the List of Upcoming Seminars, or send us an email
Check out our related open workshops:
Check out our related in-house workshops:
Volledig Programma:
Elke dag begint om 9 u. Wij verwelkomen de deelnemers met koffie/thee vanaf 8u30 en beide dagen eindigen rond 17u.
Gespreid over 2 dagen krijgt u:
1. Introductie
Waarom modelleren?
Waarom modelleren met UML?
Wat zijn de moeilijkheden met modelleren in UML?
Biedt UML een volledige oplossing van start tot finish?
Wat ontbreekt er nog aan UML voor goed gebruik in projecten?
2. Use cases
Actoren en use cases
Use cases als rode draad door het project
Het opstellen van use cases vanuit een procesmodel
De details van de use case.
Het formuleren van pre- en postcondities
Stappenplannen en scenario's.
3. Modelleren en testen
Use case scenario's.
Activity diagrammen
Testscenario's en testgevallen
4. Modelleren van de user interface
Use cases en user interface
Het user interface diagram als aanvulling op UML
Van user interface naar ontwerp
5. Van use case naar ontwerp en realisatie
Modelleren naar een n-tier applicatiearchitectuur
Het opstellen van sequence diagrammen
Klassediagrammen en gegevensmodellering
6. Modelleren van componenten en services
Het modelleren van de samenhang tussen componenten
Het modelleren van de functionaliteit van een component
Services en sequence diagrammen
Klassediagrammen en componenten
7. UML en het systeemontwikkelproces
Een eenvoudig en pragmatisch systeemontwikkelproces
Welke modellen passen waar in het systeemontwikkelproces?
Hoe effectief en agile is modelleren met UML?
Whiteboard of CASE tool?
8. Afsluiting en samenvatting
SPREKERS »
Vragen hierover ? Geïnteresseerd maar u kan niet deelnemen ? Stuur ons een email.