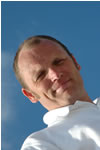 Estimating and Planning with Smart Use Cases
---
4-Hour workshop on software project planning and time estimation, starting from a segmentation of the functional specs into Use Cases
26 October 2006 (14-18)
Location:
Business Faculty Brussel
(Neder-over-Heembeek)
Presented
in English
by
Price:
320 EUR
(excl. 21% VAT)
AGENDA »
SPEAKERS » This event is history, please check out the List of Upcoming Seminars, or send us an email
Check out our related open workshops:
Check out our related in-house workshops:
Full Programme:
The workshop starts at 14h and lasts till 18h. We welcome the participants with coffee and tea from 13h30 on.
A brief introduction into estimation
What makes estimating software development difficult?
When in software development projects do I need good estimates the most? Introducing the cone of uncertainties.
What aspects make up a good estimation technique?
Some estimation techniques compared: Function point analysis, Use Cases, Smart Use Cases, bottom-up estimation techniques.
How estimation defines the project flow.
Modelling Use Cases as an estimation tool
Identifying business requirements, processes and different levels of Use Cases
Introducing Smart Use Cases
Comparing regular Use Cases with Smart Use Cases
Smart guidelines for modeling Smart Use Cases
Dealing with user interfaces, complex business logic, service-oriented architecture and model-driven architecture
Estimating Smart Use Cases
Defining the weight of your Smart Use Cases
Defining project velocity, using industry, historical, and project data
Patterns in Smart Use Case modeling, such as manage-select, references, and login-logout.
An overview of re-occurring types of Use Cases
To what type of projects is Smart Use Case estimation applicable?
Planning with Smart Use Cases
How do I minimise projects uncertainties using Smart Use Case estimations?
The benefits of iterative and agile software development
Determining the project velocity in iterative software development
How do I determine when my software development project is finished?
Do I allow changes, even late in the project? Dealing with scope creep using Smart Use Cases.
The benefits of continuous estimation & measurement.
Wrap-up and conclusions
SPEAKERS »
Questions about this ? Interested but you can't attend ? Send us an email !