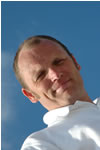 Schatten met Use Cases
---
Namiddagworkshop over plannen van softwareprojecten, vertrekkend van de functionele specificatie
18 October 2007 (14.00-18.30)
Location:
Sofitel Diegem
(Diegem near Brussels (Belgium))
Gepresenteerd
in het Nederlands
door
Prijs:
320 EUR
(excl. 21% BTW)
AGENDA »
SPREKERS » This event is history, please check out the List of Upcoming Seminars, or send us an email
Check out our related open workshops:
Check out our related in-house workshops:
Leerobjectieven:
Waarom deze workshop ?
Betrouwbare tijdsschattingen bij het inplannen van softwareprojecten blijken moeilijk, zo niet onmogelijk. De software-industrie slaagt er na jaren nog steeds niet in om degelijke schattingen te maken. Verschillende technieken leiden tot verschillende resultaten, en zelfs met één enkele techniek lopen resultaten soms sterk uiteen. Waarom is de kunst van het schatten zo moeilijk? Hoe kunnen we onze schattingen verbeteren?
In dit beknopte seminarie toont software-ontwikkelingsgoeroe Sander Hoogendoorn hoe "Smart" Use Cases gebruikt kunnen worden bij het schatten in de projectplanning, zelfs in een vroege fase van het project. Smart Use Cases zijn niet de magische oplossing-voor-alle-problemen, maar hebben zich toch succesvol bewezen als techniek, vooral in combinatie met een iteratieve projectaanpak.
Voor wie is deze workshop bestemd ?
Dit seminarie richt zich op wie in softwareprojecten te maken heeft met het inschatten van tijd in softwareplanning:
IT managers,
project managers,
software architecten,
designers en developers.
Het seminarie geeft nuchter en onmiddellijk toepasbaar advies bij het maken van tijdsschattingen, over het software-ontwikkelproces in het algemeen en natuurlijk het gebruik van Smart Use Cases bij projecten.
Van de deelnemers wordt enige praktische ervaring met het gebruik van UML binnen projecten verwacht, maar geen diepgaande kennis van de notatie.
AGENDA »
SPREKERS »
Vragen hierover ? Geïnteresseerd maar u kan niet deelnemen ? Stuur ons een email.