Belgian ArchiMate Users Meeting
---
Networking event for everyone interested in ArchiMate
4 July 2013 (18-20h)
Location:
Golden Tulip Brussels Airport
(Diegem)
Presented
in English
Price:
0 EUR
Register Now » This event is history, please check out the List of Upcoming Seminars, or send us an email
Learning Objectives
An opportunity for ArchiMate® users to meet, network and learn
ArchiMate has become an important standard for enterprise architecture modelling. This open and independent EA modelling language is now supported by different tool vendors and consulting firms. It allows enterprise architects to describe, analyze and visualize the relationships among business domains in an unambiguous way. With ArchiMate 2.0, you can now also include the business motivations and business goals in the model (making it an even better communication tool with the business), as well as the programs, projects and migration paths to implement your enterprise architecture (making it an even better change instrument).
Topics which will be covered include (but your ideas and inputs are very welcome):
What is the current status of ArchiMate in terms of language, tools and the relationship with TOGAF ?
Who is using ArchiMate in Belgium and what are companies doing with this ?
What are the critical success factors in the good use of ArchiMate ?
Which tools are being used and what are their strenghts and weaknesses ?
How do people use ArchiMate in conjunction with TOGAF, BPMN, UML, ... ?
...
This evening event is free of charge, but registration is required.
ArchiMate and TOGAF are registered trademarks of The Open Group.
Full Programme
17.30h - 18.00h
Coffee, tea, orange juice and refreshments will be waiting for you while you register and start to network with other participants
18.00u - 20.00u
Networking event
This evening event consists of:
A status update of ArchiMate by Bas van Gils
Short case studies from Belgian ArchiMate users
A lot of discussions, questions and answers
20.00h
End of the more formal part of the evening, followed by drinks and snacks to discuss and network with other participants
ArchiMate and TOGAF are registered trademarks of The Open Group.
Speakers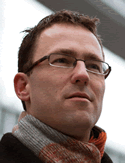 Bas van Gils is an enterprise architect with a passion for business and IT. His experience ranges from enterprise architecture to strategic management and leadership. In his work as enterprise architect, he has been involved in different types of projects, including standardization of processes and tooling with respect to development and governance of information systems, analysis and optimization of application portfolio, application integration, and motivating an organization (across departments and management layers) to embrace enterprise architecture as a way of working. In his work he strives to combine his practical experience with extensive knowledge of state of the art research on enterprise architecture including TOGAF and ArchiMate.
Bas is passionate about his work, has a strong personality, good analytic skills and good communication skills. A balance between adding value in practice and continuous learning is an essential ingredient of his attitude towards work. His ambition is to work on complex issues in the field of strategic architecture. Bas is currently also active as researcher and lecturer.
You can follow Bas on twitter via @basvg.
Questions about this ? Interested but you can't attend ? Send us an email !