RFID: Opportunities and Challenges
---
Tracking and tracing your assets, materials and products.
22 September 2004 (14-21)
Location:
Sofitel Diegem
(Diegem near Brussels (Belgium))
Presented
in English
Price:
480 EUR
(excl. 21% VAT) This event is history, please check out the List of Upcoming Seminars, or send us an email
Check out our related in-house workshops:
Learning Objectives
RFID stands for Radio Frequency Identification. It allows for objects to be equipped with "RFID tags" to inexpensively transmit information about their location, configuration, and history to an automated reader. This should automate or improve various business processes from warehouse inventory control to security.
Although RFID has been around for quite some time, it is strongly hyped at the moment because of the diminishing cost of production of RFID tags. In this seminar, we will give an overview of the technical aspects of RFID, its place in the identification technology field, industry standards and involved software, and the business case for RFID.
Questions answered during this seminar
What is RFID all about ?
What are possible applications ?
How does it compare with barcodes, smartcards, ... ? Will RFID replace these technologies ?
Is the technology mature at this point ? What about standardization ?
How does RFID fit in existing IT infrastructure ? Coupling with SCM, ERP systems ?
What does it cost ? How do you present a business case ?
...
Many other questions will be answered, including yours if you send them to seminars@itworks.be.
Check out our RFID resource center!
Who should attend this seminar ?
IT managers who need to understand the concepts behind RFID
Logistics managers looking for technology solutions..
...
Full Programme
13.30h-14.00h
Registration, Coffee/Tea and Croissants
14.00h-15.00h
Introduction/keynote
(Jack Gijrath, Business Development Manager Identification, Philips)
Overview and short history of identification and tracking technologies
How does RFID relate to other technologies?
The "F" in RFID: Frequencies
What is your opportunity today: supply chain and asset management, security, ...
Strategic choices to be made
15.00h-15.15h
How is RFID being leveraged?
(Edwin Birnbaum, CEO, Clarity Advisers)
Internal business case
External business case
What is unique about RFID ?
15.15h-16.00h
Technology (part I)
(Edwin Birnbaum)
Type of tags:

Classes: active-passive; read-write versus read only
Frequency choice

Considerations for tag attachments
Type of Readers:

Fork lift truck based
Dock doors
Portals
Conveyor belt
Handheld, ...

Antenna's
16.30h-17.05h
Technology (part II)
(Edwin Birnbaum)
Standards: ISO versus EPCGlobal
Tag Protocol
Data content
Radio regulations by region
Health and safety
Regulatory Mandates (Pharmaceuticals, Shipping,..)
Privacy issues
17.05h-17.30h
Software
(Edwin Birnbaum)
Global Data Synchronisation
Generic Architecture
EPCGlobal architecture: Savant, ONS, PML
Integration with applications
17.30h-18.00h
Key lessons learned from previous implementations
(Edwin Birnbaum)
Issues with

Suppliers
Tags
Readers
Software
Integration
Processes
19.15h-19.35h
Industry overview
(Edwin Birnbaum)
User mandates and expected timing
Supplier overview: chips, tags, readers, software, integration, and consultants
19.35h-20.00h
Next steps
(Edwin Birnbaum)
Stages of a successful deployment
When to start
How to start
When to deploy
When is the right time to invest
20.00h-20.45h
Case Study: RFID in Express transport and logistics
(Trevor Peirce, Global RFID Programme Director,
DHL/Danzas
)
DHL has been testing and developing RFID solutions since 1997. Deutsche Post (that nowadays is full owner of DHL) pursuing the widest possible adoption of RFID throughout the organisation.
Trevor Peirce is coŲrdinating the RFID projects globally and will give you an insight in RFID usage in transport and logistics.
20.45h-21.00h
Roundup of this seminar, Conclusions & Summary, Final Questions and Answers
21.00h
End of this seminar
Speakers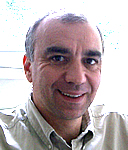 Edwin Birnbaum started his career at Procter & Gamble in Belgium in 1984. After assignments at Bain & Company, Dixons Stores Group, Wickes and Maxi GB, he moved to CHEP as Vice President, where he set up and managed the returnable container business across Europe.
At CHEP he launched the largest global RFID pilot in Florida USA, demonstrating the potential of RFID to transform the business, and radically improve CHEP's competitive position. He received 2 global prizes for this roll-out. Edwin also oversaw several other RFID implementations. Edwin was on both the (MIT) Auto-Id Center board and the Advisory Committee and now runs his own consultancy Clarity.

Jack Gijrath is Business Development Manager "Identification" Europe at Philips NV. He studied Engineering and "Commercial Technology" in Eindhoven. This combination led to a career with "green field" market development (for new technological products) as Leitmotiv.
ICís for Smartcards and RFID-tags have been his domain since 1998.
Questions about this ? Interested but you can't attend ? Send us an email !