Business Faculty

Neder-over-Heembeek
St. Lendriksborre 6 (Font St. Landry 6),
1120 Neder-over-Heembeek
phone (02) 264.13.11
fax (02) 268.54.73
web: http://www.bfaculty.be
Business Faculty is located just North of Brussels, very close to exit nr. 6 (Mil. Hosp./Hop. Mil./Kanaalzone) of the Brussels Ring R0. The building is approx. 400 meters from the exit (direction Kanaalzone Vilvoorde) next to the offices of Xylos, Rik Decan Consulting, EuroSem and Transtec. There is also a new building at the corner of this street, which houses Securitas and Belgacom Alert Services.
By car
Coming from exit nr. 6, take direction "Militair Hospitaal"/"Neder-over-Heembeek"/"Kanaalzone" (this street is called De Tyraslaan).
Keep following the main two-lane road (don't go right to "Koningslo"/"Living Tomorrow" nor right to the center of Neder-over-Heembeek).
If possible, stay on the left lane, as you will have to go left to the "Mercator Research Park" at the "Securitas / Belgacom Alert Services" building (at that moment, you see the main CRS building exactly on your right) (yes, we know this turn is very badly indicated).
Business Faculty is 100 meters down the "Sint Lendriksborre" road. Please use the images below to find Business Faculty.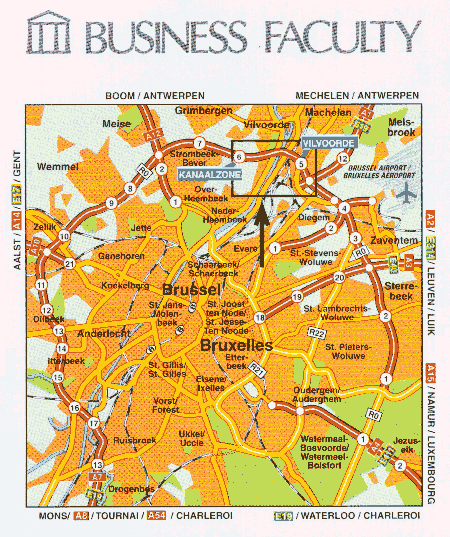 and the neighbourhood of Business Faculty looks like this:
For more information, you can visit the Business Faculty web site, go to Mappy.com, or maybe you prefer Maporama.com, which allow you to put the access maps on your PDA. The GPS information is: Lat-Long: 50° 54' 34" , 4° 23' 48" || 50.9096 , 4.3967
There is a large parking space next to Business Faculty, but the personnel of Securitas very often takes advantage of this parking space ;-(
By public transport
If you come by public transport, take bus 47 or 57 to the Military Hospital/Militair Hospitaal/Hopital Militaire (probably better known as CRS) and get off at bus stop "Van Os". However, it is still a 15 minutes walk to Business Faculty (De Tyraslaan, direction Vilvoorde, Kanaalzone).
Accomodation
If you are looking for accommodation, you can contact the hotels in the immediate neighbourhood of Business Faculty, such as Alfa Rijckendael in Strombeek-Bever, or the Falko in Wolvertem/Meise, but the airport hotels such as Sofitel Brussels Airport (Diegem), Holiday Inn Brussels Airport (Diegem), ... are less than 10 km away.
Hotel Alfa Rijckendael
Luitberg 1, 1853 Strombeek-Bever (near Heysel and Atomium)
Phone: (02) 267.41.24
Fax: (02) 267.94.01
Falko Hotel
Stationsstraat 54A, 1861 Meise - Wolvertem
Phone: (02) 263 04 50
Fax: (02) 263 04 79
Hotel Sofitel Brussels Airport
Bessenveldstraat 15, 1831 Diegem (near Airport)
Phone: (02) 713.66.15
Fax: (02) 721.54.60
...
Suggestions welcome ...