Hotel Crowne Plaza Antwerpen

Antwerp, Belgium
By car
Coming From Gent
Driving on the E17 follow indications Antwerpen Centrum. Past the Kennedy Tunnel take the second exit Berchem-Wilrijk (nr. 5). The hotel is next to the exit.
Coming from Brussels (airport)
Follow E19. When entering the tunnel take left track indicated as Centrum. Keep left. Turn left at the second traffic light indicated as Singel-Zuid-Hoboken. Warning : You are entering this road from the right. You have only 150 meters before reaching the next traffic lights where you turn left. Make sure you are on the right of this road by then. The hotel is 400 meters on your right hand side.
Coming from Holland or Germany
Driving on the Ring 1 in the direction of Ghent take exit Nr. 5 indicated as Boom-Brussel-Wilrijk. Follow A12 until exit (uitrit) Wilrijk. Keep right. At the traffic light you are in front of the hotel.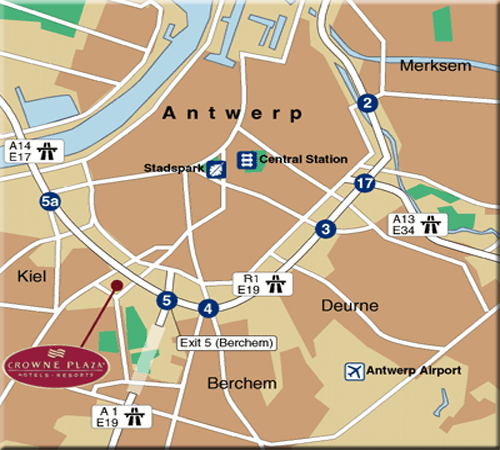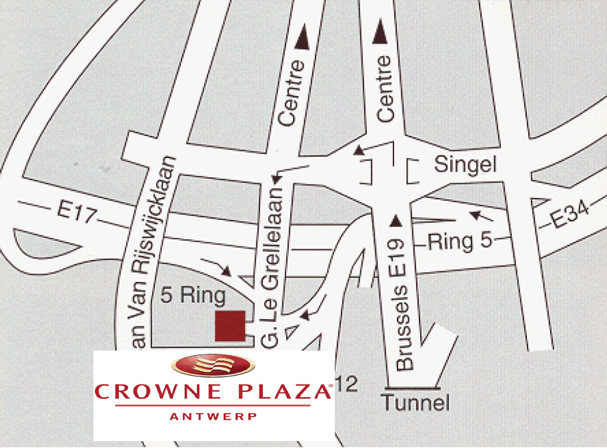 Around the hotel, there is free parking for approximately 750 cars.
By bus from Central Station or the center of Antwerp:
Nr 17 (Bus called "Rijnkaai - Centraal station - UZA") or Nr 31 (Bus called CMB - Centraal station - UZA): every 10 minutes from Centraal Station (take exit "Pelikaanstraat" from station and cross the street, or go to bus perron 11) to Bus stop "G. LEGRELLELAAN" in front of the hotel, takes about 14 minutes according to the route planner of De Lijn
Nr 22: every 20 minutes from Groenplaats ("Groenplaats-Valaar-Wilrijk-Bloemenveld "), takes about 16 minutes
There is a shuttle bus from Brussels Airport to the Antwerp Crowne Plaza hotel every hour on the hour. See time table.
Accomodation
If you are looking for accommodation, please contact the Hotel Crowne Plaza directly: call (03) 259 7500 or email reservations@cpantwerp.com.