Golden Tulip Brussels Airport

Diegem
| | |
| --- | --- |
| | The Golden Tulip Brussels Airport was formerly known as the Pullman Brussels Airport Hotel. It is located in Diegem, close to Brussels National Airport (Zaventem). |
By car
Please see below (Lat & Long: 50° 52' , 4° 26' or 50.882 , 4.439)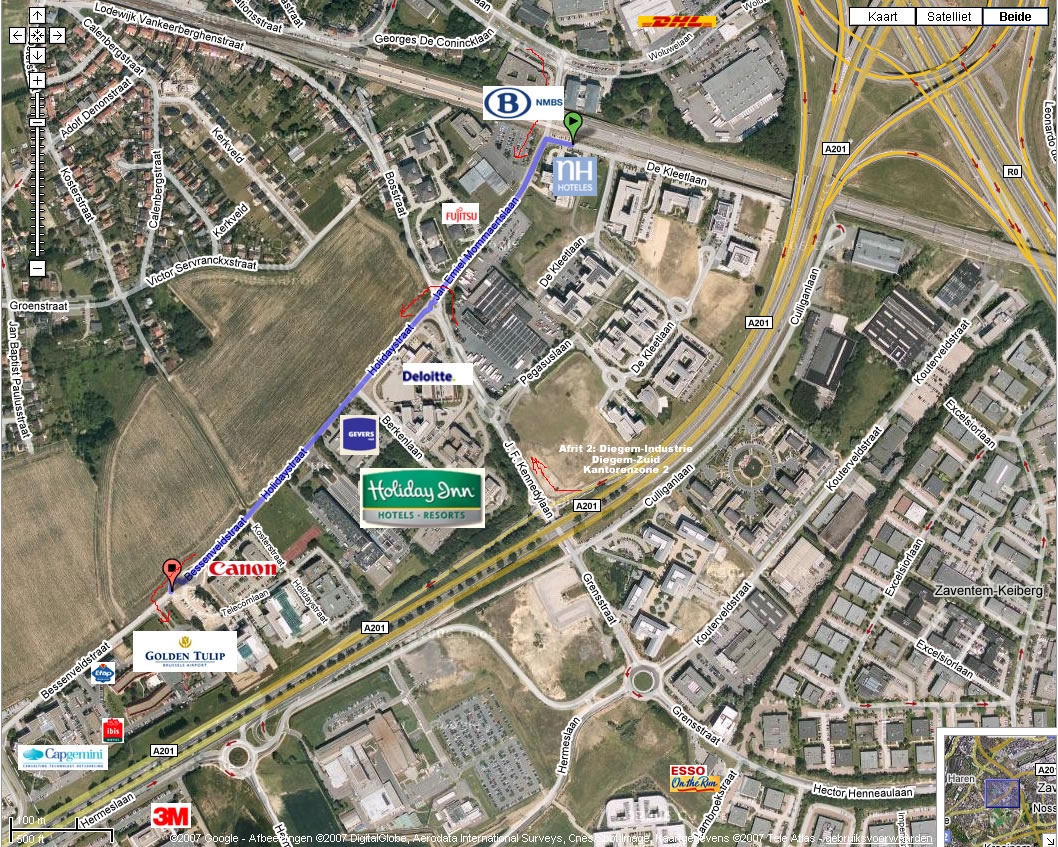 The Golden Tulip Brussels Airport hotel has a paid parking, but the costs associated will be covered by I.T. Works. On entering the parking lot, you take a parking ticket at the dispenser. In exchange for your entry ticket, we'll give you a valid exit ticket when you come and register with us for the seminar.
By public transport
If you come by public transport, there are several options:
Please visit the site of the Flemish Transport Company De Lijn for further info about busses
You can also take the Golden Tulip Airport Shuttle bus from our National Airport (follow airport shuttles signs)). Shuttle busses stop in front of the hotel. The shuttle busses operate every half hour between the airport and the hotel (and back) between 6h15 and 22h00, sometimes on request, so you can use this option to get at our morning, afternoon and evening seminars (and back). Please see the shuttle bus schedule.
In case of good weather: Diegem train station is at approximately 1 km (20 minutes), via Jan-Emiel Mommaertslaan, Holidaystraat, Bessenveldstraat (see access map above)
For the train schedule, check out the Belgian Railways site
Accommodation
If you are looking for accommodation, please contact the Golden Tulip Brussels Airport Hotel directly (phone: 02/713.66.15, fax: (02) 721.54.60). The general phone and fax number are in the table below. If you mention the I.T. Works event, you may get a discount.
IBIS Hotel (Bessenveldstraat 17, more info here
Phone: (02) 725.43.21
Fax: (02) 725.40.40
Holiday Inn Brussels Airport (Holidaystraat 7, more info)
Phone: (02) 720.58.65
Fax: (02) 720.41.45
Holiday Inn Express Hotel (Berkenlaan 5, more info)
Phone: (02) 725.33.80
Fax: (02) 725.38.10
NH Hotel (De Kleetlaan 14, more info)
Phone: (02) 203.92.52
Crowne Plaza Hotel (Da VinciLaan 4, more info)
Phone: (02) 725.69.00
Fax: (02) 725.50.17
Formula 1 Hotel
Phone: (02) 725.69.00
Fax: (02) 725.50.17
...
Suggestions welcome ...