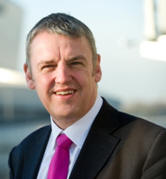 Mobile and Cloud Business Intelligence
---
An overview of techniques and technologies to take BI mobile and run BI in the cloud
21 March 2013 (14-19h)
Location:
Golden Tulip Brussels Airport
(Diegem)
Presented
in English
by
Price:
480 EUR
(excl. 21% VAT)
Register Now »
AGENDA »
SPEAKERS » This event is history, please check out the List of Upcoming Seminars
"Mike Ferguson helps you set up a mobile and cloud BI strategy "
Why do we organize this seminar ?
We are now entering an era where mobile devices like smartphones and tablets are emerging as the most popular way to access information inside the enterprise. This is already the case outside the enterprise on the worldwide Internet, with consumers continuously accessing Web content and transacting business on a daily basis. Advances in mobile usage and in mobile device user interfaces, has opened up demand to extend access to enterprise systems to mobile devices.
However, there are many challenges, including that of supporting organizations who are adopting a Bring Your Own Device (BYOD) policy for use in accessing corporate systems. Nevertheless, Mobile Business Intelligence has become one of the hottest areas on the corporate computing 'to do' list as organizations seek to broaden access to information and make actionable insight available to those on the move.
In addition we also see a growth in cloud-based BI systems. This is particularly the case in small- and medium-size businesses as well as in line-of-business areas of larger enterprises. Cloud-based BI platforms and Software-as-a-Service (SaaS) BI solutions have forced many organizations to realize that they now have to support a "hybrid" BI environment with a mix of on-premise and cloud-based systems. Mobile devices and desktops now have to connect to these systems to access insight from inside or outside the enterprise. This session also looks at how disconnected users are now supported and how mobile workers can participate in collaborative BI environments and act on business insight to improve business performance. It also looks at what is needed to keep these cloud-based BI systems integrated with on-premise applications.
One of the key questions at this seminar is "What should be in your Mobile BI Strategy ?". As we will explain, this strategy should cover at least the following aspects:
Types of BI user and mobile device usage
The mobile BI marketplace e.g. Actuate, IBM Cognos 10, Information Builders, Jaspersoft, Oracle, MicroStrategy, RoamBI, SAP BusinessObjects, Tibco Spotfire, YellowFin, ...
Architectures for Mobile BI deployment - How have BI platforms been extended to support mobile BI
Authoring mobile BI content
Switching between mobile and desktop devices
Mobile BI Security & what to look for
Catering for disconnected access to BI content
Managing access to on-premises and SaaS based BI systems from mobile devices
Integrating Mobile BI With Other Applications And Services
Acting on insight from a mobile device
Why should you attend this seminar ? What will you learn here ?
This seminar answers these and other questions:
How do you tackle mobile BI, and how doable is all this ?
What are the options when it comes to cloud BI ?
How do you build cloud-based BI applications and access them from mobile devices ?
How can you access both on-premises and cloud-based BI from mobile devices ?
What exactly are the options and what are the main considerations ?
What should you look at when deploying mobile BI applications to employees and external users ?
Who should attend this seminar ?
This seminar explains how to support mobile BI and how to set up a mobile BI strategy. As such, it will be very useful for:
BI solution specialists and developers
Business analysts
Enterprise and IT Architects
Database Administrators
Data Warehouse Designers
Knowledge Managers
Information Managers
C-Level Executives
Marketing Specialists
Managers of Cloud and Mobile Projects
AGENDA »
SPEAKERS »