Hoe zet je Microsoft Teams optimaal in voor business productivity & collaboration ?
Prijs: 480 EUR (excl. 21% BTW)


Gepresenteerd in het Nederlands This event is history, please check out the NEXT SESSION
These related seminars and workshops may also be of interest to you:
Sprekers: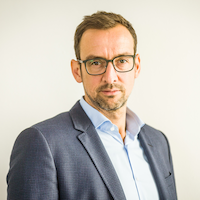 Hans Vandenberghe heeft meer dan 10 jaar ervaring in interne communicatie, intranet en de digitale werkplek. Hij begeleidde onder meer Barco en Lineas bij de realisatie van een sociaal intranet.
Tegenwoordig helpt hij grote organisaties met een gebruikersgerichte implementatie van Office 365 en in het bijzonder de gloednieuwe sociale samenwerkingstool Microsoft Teams.
Bekijk nu het volledige programma ...