Hotel Crowne Plaza - Le Palace is located between the Botanical Gardens (Kruidtuin/Botanique) and the Place Rogier (Rogierplein), and easily accessible by public transport. The railway station Brussels North is a 10 minute walk, while the Metro station Rogier is 100 meters from the entrance.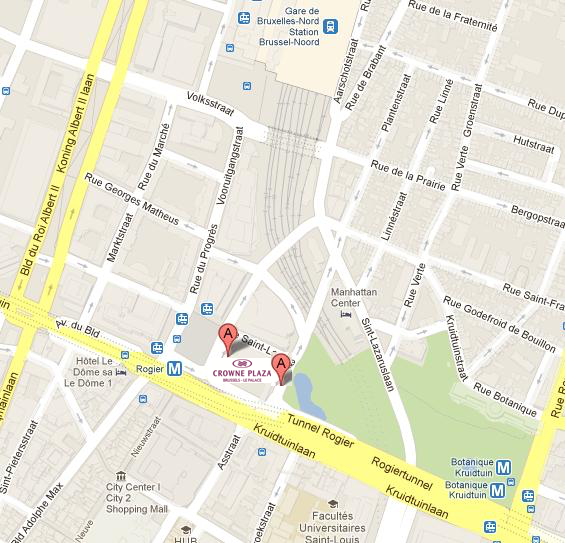 To locate the hotel in Brussels, take a look at the Google map of the workshop venue
By car
Because the hotel is situated on the Brussels inner Ring, so it is very easily reachable by car. When entering Brussels follow Direction: "Brussels Centre", exit Botanical Gardens/Jardins Botaniques/Kruidtuin. You will find the hotel situated between the Botanical Gardens and Place Rogier. Parking facilities: "Place Rogier".
Car Parking
The hotel has no separate parking. There are 5 public parking spaces in the immediate area, of which the Parking Rogier (see Interparking Web site) and Parking Botanique (see the Interparking Web site) are the closest.
By train:
Gare du Nord / Brussel Noord is the closest train station, being only a short 10 minute walk from the hotel.
If you come by train from Bruxelles-Midi (Brussels-Midi)/Zuidstation with the Thalys or Eurostar, there is an express train to North Station every 15 minutes. Leave Brussels North train Station. Walk down the Rue du Progrès until the square Rogier and see the hotel on your left-hand side.
Regular trains service the network in Brussels, serving access from the airport and more. For more information, please see the Belgian Rail website.
Accomodation
If you are looking for accommodation, please contact the Hotel Crowne Plaza directly: +32 (0)2 274 58 93 , email: info@cpbxl.be.