Measuring and Optimising the Customer Experience
---
The key to digital transformation is customer-centricity, and the best way to put the customer first is to make sure their top tasks are as easy to complete as possible
23 February 2017 (14-21h)
Location:
Parker Hotel
(Diegem)
Presented
in English
by
Gerry McGovern
Price:
720 EUR
(excl. 21% VAT)
Register Now » This event is history, please check out the List of Upcoming Seminars, or send us an email
Learning Objectives
Why do we organize this workshop ?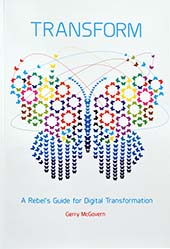 This workshop gives you the methods to focus on what your customers really want when they are online. These methods are particularly beneficial for large, complex websites and intranets, but also for mobile app development, and soon for implementing chatbots and robotic process automation (RPA).
The first method, Top Tasks Identification helps you clearly identify the top tasks of your customers AND the tiny tasks. It is about developing clear evidence based on data within your organization about what is important—and what is not important—to your customers.
The second method, which the workshop will particularly focus on is how to measure the performance of top tasks using the Task Performance Indicator. You will be thought such techniques as:
How to develop task questions—a particularly important skill to develop
How to run remote observation sessions of customers attempting to perform the tasks. You will be walked through a step-by-step facilitator guide
How to analyze and present results in a way that management can understand and act on
The Task Performance Indicator is driven by two key metrics:
Success rate: How many customers are actually able to complete top tasks?
Time-on-task: How long does it take customers to complete top tasks on your website or app?
You will be shown how to build a solidly reliable management model around these two essential metrics of the customer experience.
Participants also get a free copy of Gerry's latest book "Transform: The Rebel's Guide for Digital Transformation".
What will you learn ?

During this workshop, our speaker Gerry McGovern will teach you:
Cutting edge techniques to clearly identify your customers' top tasks
How to create task questions for observation and measurement
How to select participants
How to run a remote test
How to analyze and present results
Full Programme
13.30h - 14.00h
Registration and welcome of the participants with Coffee/Tea and Croissants and Networking Opportunity

14.00h
Top Task Identification
Getting the organization to think about customer tasks
Sources for a task list
How to a top tasks survey and present results
Measuring Customer Outcomes
An ongoing management metric
Participant / customer selection
Creating task questions
How to Run an Observation Session
Preparing for testing
Running an observation session
Analyzing and presenting results
Around 17.45h
Dinner Buffet and Networking Opportunity
Run your own Observation Session
Each workshop participant gets to run their own observation session, and try out the skills they have learned
To allow this, every participant needs to bring their own laptop
20.45-21.00h
Q & A, Summary and Conclusions
21.00h
End of this Seminar
Speakers

Gerry McGovern helps large organizations become more customer centric on the Web. His Top Tasks methods have been used by organizations such as Cisco, Microsoft, IBM, Google, the European Union, Canadian Government, and hundreds of others.
He is the founder and CEO of Customer Carewords, a company that has developed a set of tools and methods to help large organizations identify and optimize their customers' top online tasks.
He has written six books on how the Web has facilitated the rise of customer power. His fifth book, The Stranger's Long Neck, was published in 2010. His sixth book Transform: A Rebel's Guide for Digital Transformation was published in July 2016.
The Irish Times described Gerry as one of five visionaries who have had a major impact on the development of the Web. He has appeared on BBC, CNN and CNBC television, partaken in various radio shows, and featured in numerous print media publications. Gerry has spoken about top task management in more than 35 countries.
He began his Web career in 1994. In 1996, Nua, a company he founded, received the Best Overall World Wide Web Business Achievement award from the European Union.
Questions about this ? Interested but you can't attend ? Send us an email !