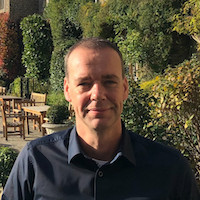 Data Vault in a Day
---
AGENDA »
SPEAKERS »
Full Programme:
9.30h - 10.00h
Registration and welcome of the participants with coffee/tea and croissants + Networking opportunity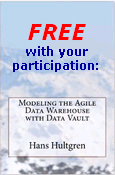 This course, the background reading material and the assessment test are designed by Hans Hultgren, founder of Genesee Academy and author of the book "Modeling the Agile Data Warehouse with Data Vault (Volume 1)". You get this book free with you participation.
10.00h
Introduction to Data Vault
What is Data Vault?
When to use it
How it differs from other approaches (pros and cons)
Why we need it
The benefits of this approach
10.25h
EDW Requirements & a New Paradigm
Modelling Agility
Unified Decomposition
Ensemble Modelling
The Core Business Concept
The Modelling process
Architecture Overview
10.50h
Hubs, Links and Satellites
Data Vault foundation
Colors analysis
Forming the Backbone
Tracking history
Attributes
Review of a sample Data Vault Model
11.50h
Workbook Exercise 1
Workbook exercise 2: explanation and group exercise
Discussion
Q & A
12.20h
Hubs and the Core Business Concept
Attributes of a hub and their purpose
Identifying and modelling the business key
Core concepts versus abstraction
Multiple keys
Non-unique keys
Dealing with duplicates
13.10h - 14.00h
Lunch Buffet and Networking Opportunity
14.00h
Workbook Exercise 2
Workbook exercise 2: explanation and group exercise
Discussion
Q & A
Natural business relationships
Business versus source driven
Transactions, hierarchies, ...
When a link grows a hub
Unique relationships
Circular not an issue
"The Fly"
Unit of Work
Context for the key
Designing satellites
Splitting and merging
Rates of change
Types of data
Sources of the data
Code and Reference Tables versus "Linked Core" concepts
Multi-valued
History
Folding to third normal form (3NF)
15.20h
Workbook Exercise 3
Workbook exercise 3
Discussion
Q & A
16.00h
Group Exercise Case
The groups work on an assignment based on a practical case.
16.30h
Discussion Group Exercise
Presentation, review, analysis and discussion of the group exercise
Q & A
17.00h
The Process for Modelling and Deploying the Data Vault EDW
Business-driven modelling
Applying an agile modelling methodology
Loading the EDW
Designing and loading data marts sourced from Data Vault models
Detailed architectural flow of data in the new EDW
Guidance on how to use the course materials, book, and online resources after class
All participants do a quick assessment test to see if they have understoond the theory and practice of Data Vault modelling. If they pass, they get the Genesee Academy certificate a few weeks later.
17.50-18.00h
Q & A, Summary and Conclusions, Closing
18.00h
End of this Seminar
SPEAKERS »
Check out our related open workshops:
Check out our related in-house workshops:
dit is een inhouse
Questions about this ? Interested but you can't attend ? Send us an email !