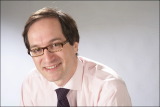 Achieving Business/IT Alignment
---
Better alignment by better governance, better communication and a more flexible architecture
8 December 2005 (14-21)
Location:
Sofitel Diegem
(Diegem near Brussels (Belgium))
Presented
in English
by
Price:
540 EUR
(excl. 21% VAT)
AGENDA »
SPEAKERS » This event is history, please check out the List of Upcoming Seminars, or send us an email
Check out our related open workshops:
Check out our related in-house workshops:
Full Programme:
13h30-14h00
Registration with Coffee/Tea and Croissants
14h00
Introduction: a Short History of Alignment
Henderson/Venkatraman 10 years on: where are we today?
Evolution of the Business/IT role stereotypes
How did it end up like this? Did we really deserve it?
Trends and evolution in the Business/IT relationship: ERP, BPR, Y2K, Internet and outsourcing
The current state of affairs: ranging from minor misunderstandings to major distrust - what made the balance tip the wrong way?
The current Business and IT environment: the call for an agile, adaptive, flexible, on-demand organisation versus the struggle with legacy, integration, reputation, cost pressure, outsourcing and job protection
15h20
Better Alignment via Governance
Governance in IT
Impact on the organisation: buffer organisations between Business and IT, and a change in roles
Governance bodies
Governance models and metrics (such as ITIL and CobiT)
Everything is management: project management, process management, program management, change management. But how to manage management?
How to involve Business in governance mechanisms
CIO and the IT Management: their role, profiles, background and duties
The previous session will be interrupted by a 20-minute coffee/tea break in the information market
16h40
Better Alignment via Communication
IT people come from Mars... and Business thinks they should have stayed there
How to communicate on IT: clarity, simplicity and transparence (Don Tapscott's Naked Corporation)
Explaining an IT strategy to Business people
Understanding what a Business strategy means in an IT context
Building an easy-to-grasp business case
Between IT and Business language: "Lost in Translation?"
Growing towards a common vocabulary?
From Communication about IT towards the Marketing of IT
19h00
Better Alignment via Architecture
Architecture as a core IT instrument to meet Business demands
How to introduce the concept of Architecture in the organisation
How to achieve the ultimate goal: "The CEO should be the key architect"
Architecture models: business architecture, process architecture, information architecture, infrastructure architecture
Architecture and agility
Architecture and process management
Architecture and outsourcing: preparing or preventing outsourcing
The essence of architecture: more than drawing up nice diagrams in Visio
The role of the architect, alignment on architecture internally within the IT department
Impact of architecture on the alignment process, and on alignment in general
Business benefits of architecture
20h00
Alignment in practice: how to start?
Towards a 'new deal' between Business and IT

Starting the dialogue, initialising the relationship
Create a momentum for Alignment
Alignment as a cultural change program
Alignment as an organisational change
Alignment as an attitude shift

How to build an alignment charter, and how do you find the right executive sponsors?
A New Deal, new instruments: relationship building, seminars, workshops, exchanges, immersion
Setting realistic alignment objectives and alignment milestones
Alignment task forces: roles, structure and effectiveness
Having Business involved in Business/IT alignment: the biggest challenge of IT nowadays
20h45
Discussion, summary and conclusions
---
Interesting Literature on this subject:
SPEAKERS »
Questions about this ? Interested but you can't attend ? Send us an email !