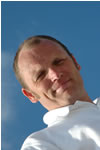 Agile, Scrum en Kanban in de Praktijk
---
Registreer NU »
AGENDA »
SPREKERS » This event is history, please check out the List of Upcoming Seminars
Check out our related open workshops:
Check out our related in-house workshops:
Volledig Programma:
13.30u - 14.00u
Registratie met koffie/thee en croissants
14.00u - 15.30u
Een Introductie tot Agile Software Development
Waarom waterval niet werkt
Uitdagingen in hedendaagse software development projecten
Het agile manifesto
Karakteristieken van agile software development
Werken in korte iteraties
Welke misvattingen gelden er rond agile software development ?
Hoe past agile bij requirements, ontwerp en architectuur ?
Welke agile software development methodieken zijn er ?
Extreme programming, Scrum, DSDM, Smart, Lean, OpenUP, MSF Agile, ...
15.30u - 16.00u
Pauze met koffie en versnaperingen
16.00u - 16.45u
Een Overzicht van Scrum en Kanban
Inleiding tot Scrum: wat, waarom en hoe ?
Waarom is Scrum zo populair ?
Kanban: de nieuwe agile methodologie, geïnspireerd door 'Lean Thinking'
Scrum vs. Kanban vs. andere agile methoden
Welke methodiek past het best bij uw organisatie ?
16.45u - 17.45u
Hoe doet u Agile Software Development in de Praktijk ?
Waarom veranderen ? Wat zijn de drijfveren om het "klassieke pad" te verlaten ?
Iteratief ontwikkelen, smart use cases, burn down charts
Letís go Scrum !
Hoe implementeert u agile software development in uw organisatie ?
Uitdagingen in projectmanagement: hoe houdt u de backlog onder controle ?
Een agile contract ? Hoe ziet dat eruit ? Wat betekent dit voor de klant ? Wat betekent dit voor de developer ?
Van project backlog naar company backlog !
17.45u - 19.00u
Dinner buffet boordevol netwerkmogelijkheden
19.00u - 19.45u
Teams en Rollen: De Nieuwe Rollen in Agile Software Development
Welke rollen zijn er nog in agile projecten ?
Hoe verandert de rol van de projectmanager ?
De nieuwe klant
De communicerende multi-talented developer
Integraal testen. De wet van Boehm
19.45u - 20.45u
Best Practices: Technieken en tools om direct toe te passen
Hoe schat u een agile project? Ideal days of toch punten ?
Hoe plant u een agile project? Een praktijkvoorbeeld
Stand up meetings
Death-by-planning. Task boards, agile dashboards, en burndown charts
Pair programming en side-by-side programming
Unit testing, smart testing
Frequently asked questions:

Hoe verkoop ik agile software development aan mijn klanten ?
Kan ik agile ook toepassen bij product development ?
Is agile vooral voor (doorgewinterde) techneuten ?
Hoe bewaak ik de scope van mijn project ?
Hoe ga ik om met architectuur in agile software development ?
Kan ik agile alleen toepassen in kleine projecten, of werkt het ook in enterprise projecten ?
20.45u
Samenvatting en Besluit
21.00u
Einde van dit seminar
SPREKERS »
REGISTER »
Vragen hierover ? Geïnteresseerd maar u kan niet deelnemen ? Stuur ons een email.