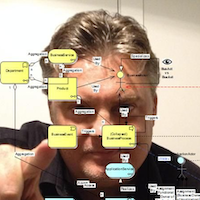 Aan de Slag met Sparx Enterprise Architect
---
Een praktische introductie tot het goed gebruik van Sparx Enterprise Architect, boordevol voorbeelden
13 October 2021 (13u30-18u00 CET)

Locatie:
Live Online Event
(@YOUR DIGITAL WORKPLACE)
Gepresenteerd
in het Nederlands
door
Christian Gijsels
Prijs:
399 EUR
(excl. 21% BTW)
Registreer NU » This event is history, please check out the NEXT SESSION
Check out these related open workshops:
Check out our related in-house workshops:
Leerdoelen
Wat leert u tijdens deze LiveOnline(*) Workshop ?
Tijdens deze erg praktische namiddagworkshop leert u o.a.:
Hoe je business analyse en modellering aanpakt met Sparx Enterprise Architect
Wat de best practices zijn om deze tool efficient en productief te gebruiken
Hoe je communicatie rond business requirements, processen en development faciliteert en stroomlijnt met Enterprise Architect
Hoe je traceability modelleert, impact analyse doet, en navigatie vereenvoudigt tussen diverse modellen en modelleertalen
Hoe je makkelijk toegankelijke views voor verschillende rollen implementeert
Hoe je herbruikbare modellen, processen, actoren, ... opzet
Alle tips en advies rond het goed gebruik van deze tool worden geillustreerd met real-life voorbeelden
Waarom organiseren we deze workshop ?
Vele bedrijven en consultants gebruiken maar een beperkt deel van de mogelijkheden van de Enterprise Architect® tool van SparxSystems®. Of u nu enterprise architect, process analyst, business analyst, functioneel analyst of data architect bent, deze tool kan uw werk efficienter en produktiever maken.
Onze workshop facilitator Christian Gijsels zal je de kracht tonen van deze tool, hoe je deze goed opzet, en hoe je deze het best gebruikt voor o.a. architectuur-, proces- en data-modellering. Christian heeft heel veel ervaring in business analyse, requirements management en het modelleren van business processen met Enterprise Architect, één van de tools die hij dagelijks gebruikt. Hierdoor krijgt u een zeer praktisch en pragmatisch inzicht in de mogelijkheden van Enterprise Architect in deze intensieve, interactieve en inspirerende workshop.
Enterprise Architect biedt u een volledige omgeving die u ondersteunt in elke fase van een project, van het verzamelen van de requirements tot de implementatie en het testen van de software. Enterprise Architect biedt niet enkel overzicht en inzicht voor elke stakeholder in een project, maar kan ook de consistentie en communicatie tussen die stakeholders verbeteren, wa
Het is noch onze bedoeling, noch die van Christian Gijsels, om Enterprise Architect te promoten. We zien echter helaas veel bedrijven die deze tool in huis halen, en slechts een beperkt deel van de kracht van deze tool benutten.
Voor wie is deze workshop bestemd ?
Deze workshop is zowel gericht op beginners als op enigzins ervaren gebruikers van Enterprise Architect. Cruciaal is dat u wil leren hoe deze tool beter kan gebruikt worden voor het modelleren van enterprise architectuur, processen en data, en voor het faciliteren van business analyse, business improvement en digitale transformatie:
(*) LiveOnline: Een lesvorm waarin een ervaren expert kennis deelt met erg geïnteresseerde deelnemers. We mikken hierbij op een immersieve klantenervaring, interactief en produktief zoals de 1250+ "echte" seminars die we de voorbije 25+ jaar organiseerden.
Volledig Programma
13u15 - 13u30
Verwelkoming in de Waiting Room + Kennismaking
13u30
Aanvang Live Online Meeting (we verdelen de namiddag in 3 blokken van een 70-tal minuten + 2 pauzes van max 15 minuten)
13u30
Functionaliteiten van Sparx Enterprise Architect
Stuur ons vooraf je vragen, dan zorgen we ervoor dat deze ook nog aan bod komen...
Hoe zet je best een nieuw project op
Hoe creëer je een project structuur
Hoe creëer je een structuur met meerdere projecten
Hoe creëer je een bibliotheek
Hoe creëer je een navigatie structuur voor die kan gebruikt worden door HTML, WebEA, Prolaborate
Hoe creëer je een grafische bibliotheek en de look van een website
Hoe kan je andere elementen inladen
Hoe creëer je eenvoudig requirements
Hoe editeer en classificeer je eenvoudig requirements
Hoe werk je met filters
Hoe kan je interne informatie herbruiken uit elementen
Hoe kan je externe informatie linken of opslaan
Versionering in Enterprise Architect
Zelf een versie-nummering structuur creëen
De mogelijkheden out-of-the-box
Rapporteren in Enterprise Architect
Hoe kan je lijsten maken
Hoe kan je matrices maken
Hoe kan je elementen zoeken over projecten heen
Hoe kan je elementen zoeken over verschillende modelleertalen heen
Hoe maak je een rapport op papier
Doelstellingen binnen de Enterprise Architect omgeving
Traceability: Hoe koppel je ArchiMate met BPMN en UML zodat elementen traceerbaar zijn voor een top-down analyse
Reuse: Hoe herbruik je elementen uit andere projecten
Impact Analysis: Hoe kan je een impact analyse uitvoeren op je huidige omgeving
Reporting: Hoe maak je grafieken uit informatie
18.00
Q & A, Online Napraten tot ten laatste 18u30
Sprekers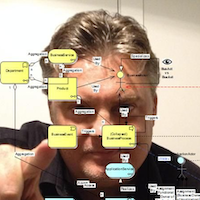 Christian Gijsels is zelfstandig consultant bij GIJSELSDOTCOM NV, gespecialiseerd in modelleertalen en -tools voor architectuur (ArchiMate), business analyse (BPMN voor processen, CMMN voor cases, en DMN voor beslissingen en decision rules) en functionele analyse (UML).
Christian was mede-oprichter/verantwoordelijk voor de consulting groep The Business Analysts, een groep van een 55-tal business analysten, functioneel analysten en project managers binnen de Cronos Holding.
Christian was ook Director bij KPMG Technology Advisory België en verantwoordelijk voor de Belgium Enterprise Architecture Practice.
U kan Christian natuurlijk ook vinden op LinkedIn en op Twitter.
Questions about this ? Interested but you can't attend ? Send us an email !