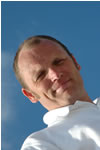 Estimating and Planning with Smart Use Cases
---
4-Hour workshop on software project planning and time estimation, starting from a segmentation of the functional specs into Use Cases
26 October 2006 (14-18)
Location:
Business Faculty Brussel
(Neder-over-Heembeek)
Presented
in English
by
Price:
320 EUR
(excl. 21% VAT)
AGENDA »
SPEAKERS »
Our events before the 1st of May are postponed, events after the 1st of May are still planned. However, if we have to cancel an event due to corona, you can reschedule to a future event. This event is history, please check out the List of Upcoming Seminars, or send us an email
Check out our related open workshops:
Check out our related in-house workshops:
Why do we organize this workshop ?
Creating reliable estimates for software development projects appears to be difficult, if not impossible. Over the years, this industry did not succeed in defining sound estimates. Different techniques lead to different results, and even applying the same technique repeatively is no guarantee for success. Why is the art of software estimation a complex one? How can we improve our estimates?
During this short, high paced seminar, industry expert Sander Hoogendoorn demonstrates the use of Smart Use Cases in estimating software development projects, even early in the project. Although Smart Use Case estimation is neither the silver bullet nor the golden hammer, it has proven to be quite a succesful technique, especially when it is enforced by applying iterative project styles.
Who should attend this workshop?
This seminar is aimed at the different roles in organisations and projects having to deal with software estimation:
IT managers,
project managers,
software architects,
designers and developers.
The seminar gives pragmatic and immediately useable advice on the process of estimation, the software development process, and of course applying Smart Use Cases in projects.
Participants are expected to have some experience with UML in projects, but thorough knowledge of the notation is not required.
AGENDA »
SPEAKERS »
Questions about this ? Interested but you can't attend ? Send us an email !