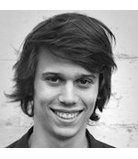 (Chat)Bots and Conversational Interfaces
---
Register Now » This event is history, please check out the NEXT SESSION
Check out our related in-house workshops:
Learning Objectives
Why do we organise this seminar on (chat)bots and conversational interfaces ?
Chatbots and conversational agents are computer programs, designed to behave like a human (hence the link with AI, Artifical Intelligence), in order to get information or get things done. Chatbots and AI assistants will grow in both enterprise and consumer spaces. Or, with the words of Satya Nadella: Chatbots will fundamentally revolutionize how computing is experienced by everybody" (July 2016).
During this seminar, we look at what chatbots and conversational agents are, how you can build them, and what types of applications are possible. One of our speakers will show how chatbots can revolutionize customer service, because they are available 24/7, much cheaper than humans, and accessible via standard messaging services like Facebook Messenger, Slack, WhatsApp, Kik or WeChat. They can respond very quickly to the questions and requests from many customers at the same time while staying highly personalized, making them an ideal tool to automate and streamline customer service processes.
Who should attend ?
This seminar answers these and many other questions:
What are Chatbots and Conversational Agents ?
How do you build bot-based solutions ?
What are the advantages of bots compared to humans ?
How can these be used for customer interaction ?
What are the major vendors like Microsoft, IBM, Facebook, Google, Amazon and others doing ?
Anyone interested in the automation of computer-human interaction (customer service, retail, e-commerce, search engines, ...) will benefit from this vendor-independent overview of what chatbots are and how your company can use them.
Full Programme
13.30h - 14.00h
Registration and Coffee/Tea
14.00h
Introduction to Conversational Agents (Michiel Vandendriessche, Craftworkz)
In this first session we introduce you to the concept of conversational agents and their history.
Then, we will also go over some interesting examples of conversational agents across many different sectors and we will discuss how the big players like Microsoft, IBM and Google are helping developers create the next generation of chatbots.
And finally, once you have a good idea of how a chatbot works and where it is used, we will show you a live demo on how to create your very own conversational agent.
In this demo, where we will be using IBM Watson's Conversation, we will show the process behind the development of conversational agents, allowing you to understand even better how they work and how you can use them in your business.
15.15h
The Mecoms™ Interactive Agent (MIA) (Ronnie Dibbaut, Ferranti Computer Systems)
MECOMS™ is Ferranti's flagship product that helps energy and utility companies serve their customers better. Their prospect-to-cash Meter Data Management (MDM) and Customer information system (CRM) is actually Microsoft's recommended solution for energy and utility companies across the globe. Not bad for a Belgian company, that is now also using Microsoft's latest cognitive solutions to revolutionize customer service. Ronnie talks about:
The architecture of MIA and explanation of the different components
Microsoft Cognitive Services, including LUIS, the Language Understanding Intelligent Service
Short example of the model
Recorded + live demo
16.15h
Coffee/Tea Break and Networking
16.30h
Connecting your Conversational Agents (Deevid De Meyer, Craftworkz)
During our first session we showed you how, and where, conversational agents are used.
During this session, we will continue our journey by first talking about connecting your agents to the world, because even the most wonderful conversational agent is useless if it cannot be accessed by your users. As an ultimate example, we will also be demonstrating how chatbots can be combined with robotics to form the ultimate solution for natural conversational interaction with your users.
Finally, we will discuss some best practices when designing your own conversational agents.
17.30h
The Future of Conversational Interfaces
Our top speakers will look at the future of conversational agents, development platforms, as well as the use of this technology for machine-to-machine and internet-of-things interactions. Equally interesting are RPA robots (robotic process automation) that are already revolutionizing the way we think about and administer business processes, IT support processes, workflow processes, remote infrastructure and back-office work. And have you already seen IPsoft's Amelia, your digital employee ?
18.00h
Discussion + Questions & Answers
18.30h
End of this seminar
Speakers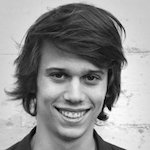 Michiel Vandendriessche is a computer scientist with a specialisation in data analytics and artificial intelligence. He started in Craftworkz with his work in AI-driven fall detection. Instead of coding rules for detecting a fall from someone's wrist watch, he developed a system that could learn these sophisticated rules itself by analysing examples of falls and non-falls.
Furthermore, he gained a lot of expertise in developing chatbots. He uses well-known technologies like IBM Watson Conversation and Microsoft Bot Framework and started the development of Craftworkz' own framework called "Oswald".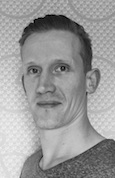 Ronnie Dibbaut Has been active in the utility industry since 2004, first as Business Analyst and later on as Technology Expert working on global innovation for a major European utility company. Ronnie is now working as a Subject Matter Expert on innovation for the product department of Ferranti Computer Systems, an Antwerp-based company specialized in offering a MDM/CRM software solution for utility companies.
The latest developed product of Ferranti's product organization is MIA, the MECOMS™ Interactive Agent, a chatbot with cognitive capabilities. Acting as a utility specialist and project manager, MIA was developed by Ronnie and his colleague Robin Van Loock.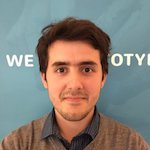 Deevid De Meyer is one of the mad engineers at Craftworkz. Deevid has been highly involved in building robotic applications. At Craftworkz, we take the whole "humanoid robot"-story one step further by adding some AI sauce on top of the robot application which adds an extra dimension. Deevid is the go-to person when it comes to AI & robotics.
Questions about this ? Interested but you can't attend ? Send us an email !